Trevor Steedman
Biographical information
Birth name
Born

May 25, 1954

Died

June 25, 2016

First credit
Doctor Who (1984)
Further information
Link(s)
IMDb

[Source]
Trevor Steedman was an English actor and stunt performer. Steedman is known for portraying Wierzbowski in Aliens.
Steedman was very active within the fan community and was a honorary member of the United Kingdom Colonial Marines (a UK based Alien and Predator costuming group) and regularly attended conventions with the group and even dressed in Colonial Marine armor at shows himself. Steedman had recently narrated and starred in the documentary Alien Encounters: Superior Fan Power Since 1979, which followed the adventures of Alien fans.
Outside of the Alien franchise, Steedman also worked on several James Bond films, as well as various films and television series, including Doctor Who (1984), Superman IV: The Quest for Peace (1987), London's Burning (1988), and Snatch (2000).
Trevor Steedman sadly passed away on June 25, 2016, at the age of 62 after suffering a stroke.
Alien franchise credit

[

]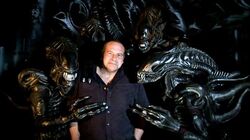 Wierzbowski
[
]
Other credits
[
]
A View to a Kill (1985)
Hideaway (1986)
Superman IV: The Quest for Peace (1987)
London's Burning (1988)
Rob Roy (1995)
GoldenEye (1995)
Restoration (1995)
Tomorrow Never Dies (1997)
Conspiracy of Silence (2003)
Amnesia (2004)
Heidi (2005)
Children of Men (2006)
Mutant Chronicles (2008)
Silent Witness (2010)
Land Gold Women (2011)
Trivia
[
]
Trevor Steedman had to take a break during filming to donate bone marrow to his brother who was critically ill in the hospital.