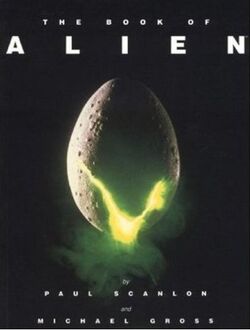 The Book of Alien is a book written by Paul Scanlon and Michael Gross to document Alien's production process. It was first published in 1979, with periodic re-releases including one in 2004 celebrating the 25th anniversary of the film. The book contains behind-the-scenes information of the film's production, as well as interviews with the key people involved, including legendary artist/designer H. R. Giger and director Ridley Scott. Lavishly illustrated with scores of stunning design paintings, production art and film stills unpublished elsewhere, the book covers every creative stage, and graphically demonstrates just why the film won an Oscar for its visual effects.
Community content is available under
CC-BY-SA
unless otherwise noted.