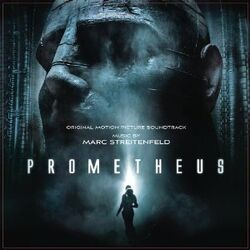 The musical score to Prometheus was written by German composer Marc Streitenfeld, the soundtrack also features two supplemental pieces by English composer Harry Gregson-Williams and was conducted by Ben Foster.
Marc Streitenfeld is a frequent collaborator with Ridley Scott. The Prometheus project becoming the fifth collaboration between the composer and the director. The score was recorded over one week with a 90-piece orchestra at Abbey Road Studios in London, England, where it was also processed by Scott after the fact. Streintenfeld began coming up with ideas for the score after reading the script prior to the commencement of filming. To create an "unsettling" sound, he provided the orchestra with reversed music sheets to have them play segments of the score backwards, before then digitally reversing it. The track "Friend from the Past" reprises Jerry Goldsmith's original main title from the Alien soundtrack. The Prometheus soundtrack album was released on iTunes on 15 May 2012 and in audio CD on June 4 in the United Kingdom. It is slated for audio CD release in the United States on June 12.
Track listing
Edit
A Planet (02:36)
Going In (02:06)
Engineers (02:32)
Life (02:33)
Weyland (02:07)
Discovery (02:35)
Not Human (01:51)
Too Close (03:23)
Try Harder (02:04)
David (03:02)
Hammerpede (02:46)
We Were Right (02:45)
Earth (02:38)
Infected (01:59)
Hyper Sleep (02:03)
Small Beginnings (02:14)
Hello Mommy (02:06)
Friend from the Past (01:16)
Dazed (04:32)
Space Jockey (01:32)
Collision (03:08)
Debris (00:47)
Planting the Seed (01:38)
Invitation (02:18)
Birth (01:26)
Community content is available under
CC-BY-SA
unless otherwise noted.