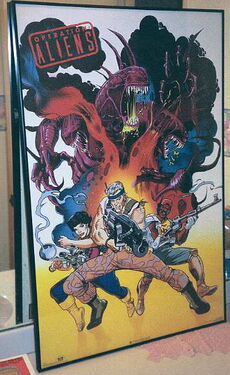 Operation: Aliens was a multimedia brand created by Kenner Products to promote merchandises based on the 1987 film Aliens, configuring elements derived from the film to be more child-friendly in order to better suit the targeted demographic. In addition to the toyline, it also included other miscellaneous merchandises, such as Jigsaw puzzles, plaster molding set, board game, toy case, watch, and a few other items.
Animated series "pilot"
Edit
Rumors circulated around the internet regarding the Operation: Aliens animated series. Supposedly pitched by 20th Century Fox as a way to market the then upcoming Alien 3 film as a Saturday morning cartoon show. It evidently started production through an unknown Korean studio, but nothing is known about who exactly was involved or whether or not the alleged pilot episode was ever actually produced.
Additional information surfaced on May, 2017, when Jimbo X of The Internet Is In America spoke to former Fox Kids executive Margaret Loesch. Loesch explained that Fox Kids never ordered a pilot episode of Operation: Aliens, nor did the idea for the series even originate from the studio. Instead, it was Kenner that approached Fox with the idea of doing the series to coincide with their action figure releases. Though Loesch couldn't recall the time the series was ever pitched to Fox Kids, she stated that if there were discussions to greenlit the animated series it probably would have been turned down, expressing concerns that the source material was an R-rated property and the studio would have had to modify the series to make it acceptable to broadcast standards and practices. Another factor was that Fox's theatrical division did not want Aliens to be turned into a "children's property" at that point in its life.
The truth regarding the supposed production stills (see below) of the elusive pilot was revealed by veteran storyboard and comics artist Will Meugniot. The production stills were actually from a series of three animated Aliens commercials that Meugniot worked on while he was at Graz Entertainment in 1992. The animated commercials were created by AKOM Production, a South Korean animation studio (among their notable resumes include Animaniacs, The Simpsons, My Little Pony, Batman: The Animated Series, The Transformers), and utilized the same team that was working with Meugniot on the animated Conan the Adventurer and X-Men series. The animation would have been used on commercials to promote Kenner's Aliens toyline, depicting the Colonial Marines fighting against the Aliens in a battle for control of an unnamed space station. Ultimately the animated commercials wouldn't be aired on television. Instead Kenner opted to go with live action trailer, showing kids playing with the figures.[1]
Production stills
Edit
Merchandises
Edit
Main article: Kenner Products
Originally released by Kenner in 1992, the toyline figures are split into two "factions" — Lieutenant Ripley and the "Space Marines", and the Aliens they face. The "Space Marines" are derived from the Colonial Marines characters the 1987 film Aliens, retconning their tragic fates from the film, such as Apone, Hudson, Vasquez and Drake. In addition, the characters are also redesign to better suit the toyline's theme. Most of the Aliens' design are derived from real-life animals configured into their appearance.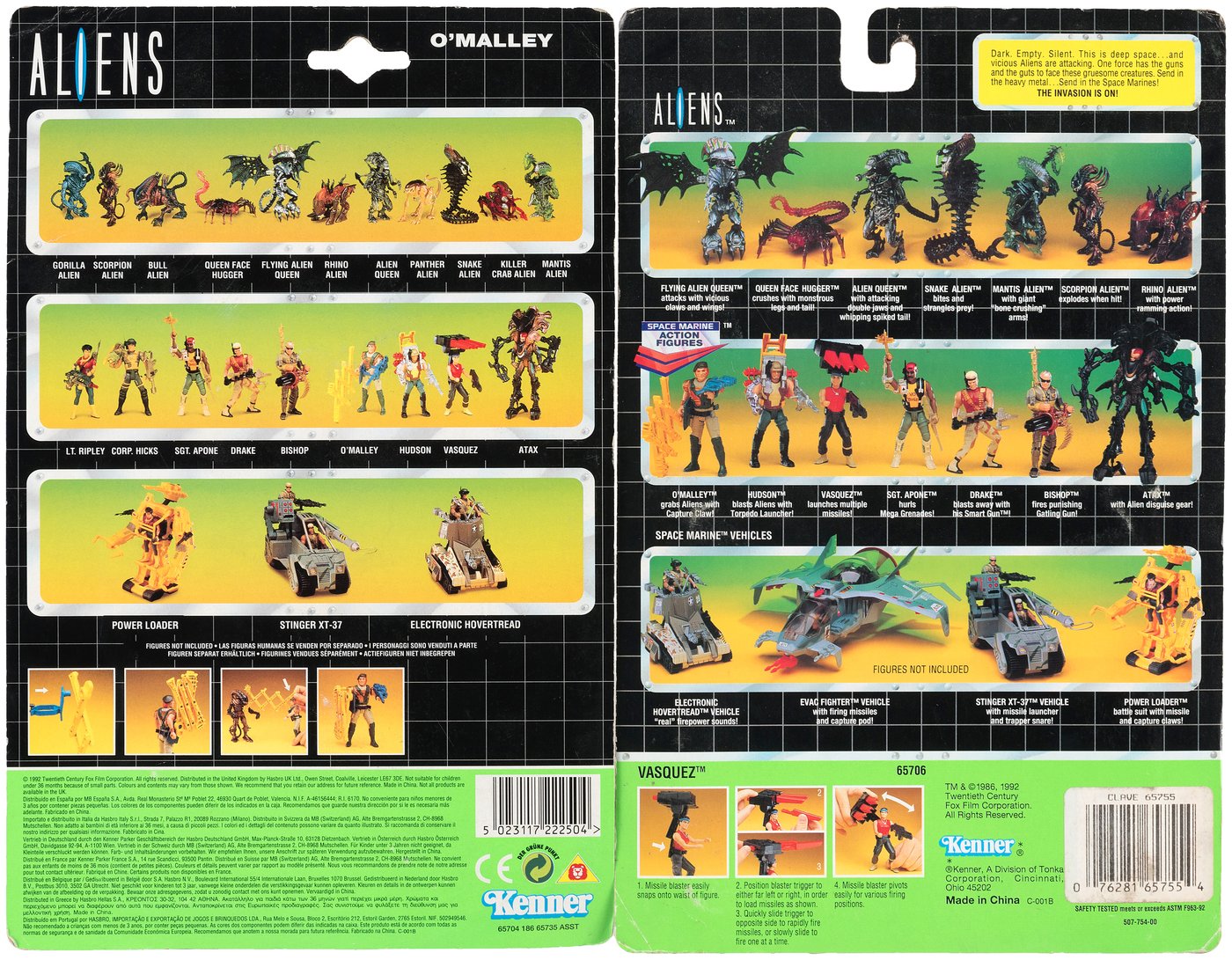 The Aliens mini-comics published by Dark Horse Comics as a tie-in to Kenner's Operation: Aliens toyline. The comics consists of 13 issues. Issues 1-12 features Ripley and the "Space Marines" combating against various Aliens terrorizing different worlds, while the thirteenth and final issue is a Aliens vs. Predator crossover.
| Cover | Name | Included with |
| --- | --- | --- |
| | Desert Storm | Bishop action figure |
| | Operation: Rescue | Scorpion Alien action figure |
| | Hive War | Sgt. Apone action figure |
| | Jungle Attack | Gorilla Alien action figure |
| | Meltdown | Sgt. Drake action figure |
| | Showdown | Corp. Hicks action figure |
| | Stampede | Bull Alien action figure |
| | Fireball | LT. Ripley action figure |
| | Night Strike | Snake Alien action figure |
| | Swarm | Mantis Alien action figure |
| | Terrordome | Giant Face Hugger Alien action figure |
| | Ice Storm | Rhino Alien action figure |
| | The Ultimate Battle | Aliens vs. Predator 2-pack |
Video game
Edit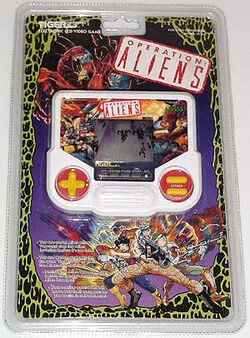 The Operation: Aliens video game [2] was developed by Tiger Electronics as a handheld LCD, much like most of the company's other games. It was commissioned by 20th Century Fox. For reasons unknown, development for the game ceased and it was never released. There were also rumors of a mainstream Operation: Aliens video game planned to be released for the then current home gaming consoles.
External link
Edit
References
Edit
Community content is available under
CC-BY-SA
unless otherwise noted.