Isle of Skye
General information
Classification
Island
Location
Earth
Chronological information
First appearance
Prometheus (only appearance)
Last appearance
[Source]
The
Isle of Skye
(Scottish Gaelic: An t-Eilean Sgitheanach or Eilean a' Cheò) is the largest and most northerly island in the
Inner Hebrides
of
Scotland
. The island's peninsulas radiate out from a mountainous centre dominated by the Cuillin hills. Although it has been suggested that the first of these Gaelic names describes a "winged" shape there is no definitive agreement as to the name's origins.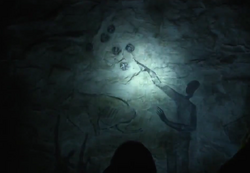 In 2089, an expedition team lead by archeologists Elizabeth Shaw and Charlie Holloway discovered a star map among several unconnected ancient cultures within a cave they found during their expedition on the Isle of Skye. They interpret this as an invitation from humanity's forerunners, or "Engineers". Shaw shared her discovery with Peter Weyland, the elderly CEO of Weyland Corporation for a proposal in order to gain enough funding for an expedition to follow the star map. Weyland agrees with the proposal and funds the creation of the scientific vessel Prometheus to follow the map to the distant moon LV-223.
Community content is available under
CC-BY-SA
unless otherwise noted.