Darius Khondji
Biographical information
Birth name
Born

October 21, 1955
Tehran, Iran

Died
First credit
Further information
Link(s)
IMDb
[Source]
Darius Khondji is the cinematographer of Alien Resurrection.
Alien franchise credits

[

]
Cinematographer
[
]
Other credits
[
]
Delicatessen (1991)
The City of Lost Children (1995)
Se7en (1995)
Evita (1996)
In Dreams (1999)
Panic Room (2002)
Zidane: A 21st Century Portrait (2006)
My Blueberry Nights (2007)
Amour (2012)
The Immigrant (2013)
Biographical information
[
]
Personal life
[
]
Khondji was born in Tehran, Iran, to an Iranian father and a French mother. At an early age, his family relocated in France. He became interested in film, inspired by watching horror movies since the age of 13, Hammer Film's movies in particular. Khondji started to make his own short films using 8mm camera.[1] Later in life, he moved to the United States to study at UCLA and then majored in film from New York University and the International Center of Photography. During this period, two teachers influenced his decision to become a cinematographer: Jonas Mekas and Haig Manoogian (Martin Scorsese's film teacher). He realized that "all I wanted to do was shoot the other students' films. I was concerned with the power of the image and much less with story."
Career
[
]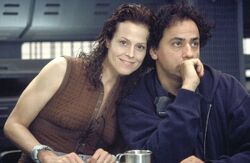 After his time in the United States, Khondji returned to France in 1981 and worked as an assistant for cinematographers like Bruno Nuytten, Martin Schafer and Pascal Marti. He also worked as a lighting director on music videos and commercials.
His second feature film was Le tresor des Iles Chiennes (1991), a low budget, black and white, post-atomic adventure film. His work on this movie was significant enough to warrant the Cahiers du cinéma to publish one of its rare interviews with a cinematographer. It was on this film that he demonstrated an affinity for Cinemascope. Khondji worked with Jean-Pierre Jeunet on the 1991 film, establishing his international reputation and earned him a Cesar nomination for Best Cinematography. Khondji and Jeunet would eventually reunite to make Alien Resurrection in 1997. His work on Delicatessen also led to the attention of David Fincher, working together on the 1995 film Se7en.
References
[
]