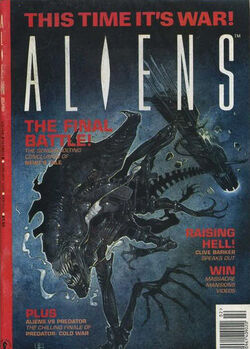 Aliens, often referred to as Aliens magazine and sometimes Aliens, Vol. 1 and Aliens, Vol. 2, was a two-volume, "oversized" (12 x 8) format comics magazine published in the United Kingdom, first by by Trident Comics (Vol. 1, #1-16) and later Dark Horse International (Vol. 1, #17 and Vol. 2, #1-22), from February 1991-April 1994.
Originally, the magazine served simply as a means to publish serialized reprints of Dark Horse Comics' existing American Aliens, Predator and Aliens vs. Predator comic books for the UK market. However, after Dark Horse International took over the publication, the magazine's scope expanded to include other material created exclusively for it, including text articles, news and even new comic book stories. Financial troubles at Dark Horse International ultimately led to the company going out of business and the magazine being cancelled before its projected run was finished.
Overview
[
]
Trident Comics: Volume 1 #1-16
[
]
When Trident Comics first began publishing Aliens magazine, it consisted almost entirely of serialized reprints of comics already released in America, the only new content being brief "The Story So Far" summaries before each installemnt to remind readers what had happened previously. Despite the publication's name, it included Predator and Aliens vs. Predator comics as well as Aliens stories. Starting with issue 6, the magazine began incorporating a letter column, although this was infrequent at first. With issue 12, the comic's design was overhauled and the length increased from 48 pages to 64, allowing more comics and/or bigger installments to feature. The letter column — now under the name "Alien Contact" — became a more regular feature. The magazine's redesign was overseen by John Mould.[1] The principle editor on the Trident Comics issues was Martin Skidmore.
The final issue published by Trident Comics was issue 16; when Dark Horse Comics started their UK-based Dark Horse International branch, they took over the license for the magazine and subsequently published issues themselves. With a new publisher came an entirely new layout, and as a result the magazine's reprint of Aliens: Book One ended in issue 16 before it was complete. Trident Comics went out of business in 1992.
Dark Horse International: Volume 1 #17 and Volume 2
[
]
The final issue of Volume 1, #17, sported an all-new design, featured new cover artwork by Chris Halls, and for the first time included a significant amount of new, non-comic book content in the form of exclusive articles written by Dave Hughes. The page count was also slightly reduced to 50 pages. This format would subsequently be adopted for all remaining issues. Following issue 17, Dark Horse restarted the series as Volume 2. The final issue of Volume 1 was edited by Michael W. Bennent.
Volume 2 of the magazine continued with serialized reprints of Dark Horse's existing Aliens, Predator and Aliens vs. Predator comic books from America, although as the magazine progressed the focus shifted to Aliens comics exclusively — the final Predator story featured was Predator: Rite of Passage, which concluded in issue 11, while the last Aliens vs. Predator title to appear was Aliens vs. Predator II, which ended in issue 14. Serialized reprints of Predator and Aliens vs. Predator comics were instead moved to a new home in Dark Horse International's anthology magazine Total Carnage. Similar to Volume 1, each comic book episode in Volume 2 of Aliens magazine was preceded by a brief "What Has Gone Before" text summary of prior events, to help fans keep track of the story from month-to-month. However, unlike the Trident issues, this text was often accompanied by exclusive, previously unseen artwork.
Volume 2 saw a marked increase in the amount of original material created for the publication. This included behind the scenes articles on the creation of the Alien and Predator films, news, competitions, the popular "Bug Hunt" letter column (overseen by Diana Schutz), artist's sketchbooks, in-universe technical schematics, exclusive cover artwork and even new Aliens comics. These original comics included Aliens: Sacrifice, the first and only compiling of the story Aliens: Countdown (which had previously only been run in segments in the promotional Dark Horse Insider), Alien3: Terminal Addiction, Aliens: Crusade and Aliens: Matrix, the latter two of which were unfortunately affected by the magazine's cancellation. While some issues re-used cover art from existing Aliens comic books, most featured brand new cover artwork created especially for the magazine by leading British comics painters such as Chris Halls, John Bolton, Paul Johnson, Dave Dorman, Kilian Plunkett and others. Volume 2 of Aliens magazine was edited by Bennent (#1), Dick Hansom (#1-10) and Cefn Ridout (#6-22).
Reviews, articles and background material for Volume 2 of the magazine were primarily provided and compiled by Dave Hughes and writer/artist Lee Brimmicombe-Wood, both of whom had previously worked on the non-Dark Horse Aliens comic Do Aliens Dream? for Argus House. Hughes typically wrote articles and compiled the "Motion Tracker" news section, while Brimmicombe-Wood provided the "Technical Readout" section, which consisted of in-universe breakdowns of the weapons and technology of the Alien series. News and articles largely focussed on the Alien and Predator films, particularly Alien3 (released into cinemas early in Volume 2's run), although other movies were also touched upon, typically those that shared cast and/or crew with the Alien and Predator franchises. From issue 7 onwards, the Motion Tracker section also included a regular "Remote Sentry" segment (temporarily renamed "Rumour Control" in issue 9, in reference to Supt. Andrews in Alien3) that listed upcoming media featuring cast and crew from the Alien and Predator film series. There were plans to expand Brimmicombe-Wood's Technical Readouts into a six-issue American comic book published by Dark Horse, but the project fell through with the end of the magazine. The Readouts were, however, later expanded upon and compiled as the book Aliens: Colonial Marines Technical Manual, written by Brimmicombe-Wood and edited by Hughes.
Volume 2 ran for 22 issues before being cancelled thanks to Dark Horse International going out of business. At least one further issue was solicited but never saw print. The cancellation left the magazine's original serialized story Aliens: Crusade unfinished, and its planned graphic novella Aliens: Matrix unreleased. Also left incomplete by the cancellation were the magazine's reprints of Aliens: Colonial Marines (1993-1994 series), Aliens: Alien and Aliens: Rogue.
Alien3 Movie Special

[

]
In late 1992, Dark Horse International also released a three-issue spin-off magazine entitled Alien3 Movie Special, to coincide with the release of Alien3 in the UK. This sister publication featured a serialized reprinting of the comic book adaptation of the third movie, together with articles about the film, including an Alien3 Technical Readout section. A reprint of the comic Aliens vs. Predator II was split across Alien3 Movie Special and the main Aliens magazine.[2]
Trivia
[
]
It is unknown how many issues of Aliens magazine were planned, but the introductory text in Vol. 2 #9 states that Aliens: Colonial Marines was to be serialized as 24 episodes.[3] This would have meant Volume 2 of the magazine running to at least issue 32, which would have been published in February 1995.
The free Aliens postcard given away with Vol. 2 #17 is actually half of an image that could be completed with a free Predator postcard given away with issue 9 of Total Carnage magazine, published the following month by Dark Horse International.
References
[
]
↑ Dave Hughes, Lee Brimmicombe-Wood. (1993). Aliens magazine, Vol. 2 #9. Dark Horse International, 3.