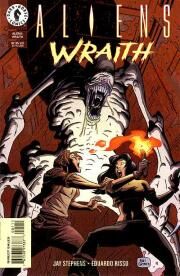 Aliens: Wraith was a one-shot comic book published by Dark Horse Comics in July 1998. The story was written by Jay Stephens, illustrated by Eduardo Risso and featured a cover by Ronnie del Carmen. It was lettered by Clem Robins, colored by Chris Chalenor and edited by Philip Amara.
Wraith was eventually collected alongside other Aliens stories in Aliens Omnibus: Volume 6 published in December 2008. In the Aliens comics line, Aliens: Wraith was followed by Aliens: Apocalypse - The Destroying Angels (January-May 1999).
Plot
[
]
Official description: On Earth, or in the dark reaches of space, teenagers are concerned with one thing: meeting other teenagers. It's no different for Roarke, the latest arrival to the off-world agri-colony of Tirgu-Mires. He's making new friends fast, particularly with a young girl named Hope. But there's more to this farm colony than Roarke first suspected. Every town has a dark secret not spoken in the light of day. Tirgu-Mires' secret just happens to have sharp teeth, acid blood and a murderous hunger for human flesh.
Behind the Scenes
[
]
Both interior artist Eduardo Risso and cover artist Ronnie del Carmen were veterans of the Aliens comics line at the time Wraith was released. Risso had formerly worked on the comics adaptation of Alien Resurrection, and Ronnie del Carmen had been artist on the Herk Mondo stories Aliens: Mondo Pest and Aliens: Mondo Heat.
Argentinian artist Eduardo Risso is also known as the critically acclaimed illustrator of the entire run of DC/Vertigo's 100 Bullets.