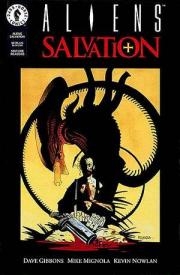 Aliens: Salvation is a one-shot comic book published by Dark Horse Comics in November 1993. The story was created by well-known comics creators writer Dave Gibbons, penciller Mike Mignola and inker Kevin Nowlan. It was lettered by Clem Robbins, colored by Matt Hollingsworth and edited by Anina Bennett & Ryder Windham. Mignola also provided cover art in his usual gothic style.
The story was collected with fellow Aliens one-shot Aliens: Sacrifice and released in trade paperback form as Aliens: Salvation and Sacrifice in March 2001, edited by Chris Warner. It was finally collected as part of Aliens Omnibus: Volume 3 in March 2008.
In the Aliens comics line, the story was published concurrently with Aliens: Colonial Marines (Jan. 1993-July 1994), Aliens: Crusade (July 1993-March 1994), Aliens: Labyrinth (Sept. 1993-Jan.1994), and Aliens: Cargo (Nov.-Dec. 1993). It followed by Aliens: Music of the Spears (January-April 1994).
Plot
[
]
Selkirk, a God-fearing crewman aboard the space freighter Nova Maru, is forced at gunpoint to abandon ship with his captain. They crash-land on a small planet, but it is soon apparent that they have not entirely escaped. Marooned on an off-the-path planet, the two soon discover that they have not been left alone and must now contend with the Nova Maru's deadly cargo.
Behind the Scenes
[
]
Aliens: Salvation writer Dave Gibbons was the artist of the world-famous comics series Watchmen for DC Comics with writer Alan Moore, inspiration for the recent film of the same name. He was also on Dark Horse Comics' popular Martha Washington series with writer and Sin City creator Frank Miller.
Artist Mike Mignola was the creator of Hellboy for Dark Horse, which has since gone on to become a successful film series.