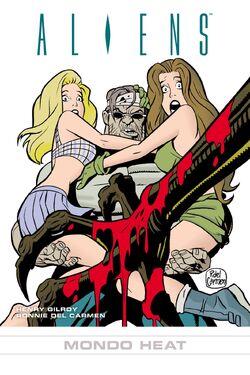 Aliens: Mondo Heat is a one-shot comic book story published by Dark Horse Comics in February 1996. It was written by Henry Gilroy, illustrated by Ronnie del Carmen, lettered by Steve Dutro, colored by Pamela Rambo and edited by Bob Cooper. It featured a cover by del Carmen.
Mondo Heat iss a sequel to 1995's Aliens: Mondo Pest and is one of three stories to feature the Alien-killing mercenary Herk Mondo. (The first being issue #6 of Aliens: Colonial Marines in 1993.) It was eventually collected along with the other Mondo stories and other Aliens comics in Aliens Omnibus: Volume 4 in July 2008.
In the Aliens comics line, Aliens: Mondo Heat was preceded by Aliens: Incubation (September-October 1995), and was followed by Aliens: Lucky (September 1996).
Plot
[
]
Official description: When you've got a major infestation of Aliens, and the Colonial Marines are nowhere in sight, you won't find a better "exterminator" than Herk Mondo. But Herk's got a couple of big problems: he's completely unarmed in the middle of the infestation, and he's got an active volcano ready to blow beneath his feet! You can be sure of one thing, though -- the volcano may blow, but Herk'll keep his cool.
Behind the Scenes
[
]
Interestingly when Herk Mondo makes his first somewhat random cameo appearance in Colonial Marines #6, he is already apparently a galaxy-renown bug hunter, as the Marines already know him by reputation and are in awe of him.
Mondo Pest and Mondo Heat writer Henry Gilroy would go on to write some stories for Dark Horse's Star Wars line, and eventually become main writer/story editor for Cartoon Network's Star Wars: The Clone Wars, which position he still holds.
The Mondo stories are rarities in the Aliens universe in that they are clearly action/comedy stories with a slightly cartoony and sexy sensibility thrown in with the typical Aliens horror motiff.
As Dark Horse drastically reduced its Aliens output in 1995-1996, the offbeat character of Mondo could arguably be called the "lead" character of the franchise in those years as he was the only recurring character appearing in Aliens comics at the time--even if it only was in two stories.