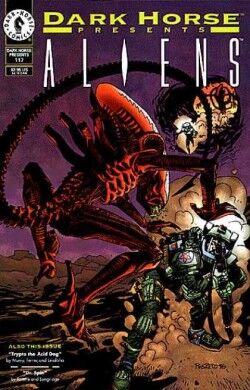 Aliens: Headhunters was a short comic book story published by Dark Horse Comics in Dark Horse Presents #117 in January 1997. The story was written by Mike W. Barr and illustrated by Gene Colan. The issue was edited by Bob Schreck and also featured an Aliens cover by artist Duncan Fegredo.
Headhunters was eventually collected alongside other Aliens comics in Aliens Omnibus: Volume 6 in December 2008.
In the Aliens comics line, Aliens: Headhunters was preceded by Aliens: Lovesick (Dec. 1996), and was followed by Aliens: Pig (March 1997).
Plot
[
]
Two retirement-minded bounty hunters hope to make some quick cash by selling Alien skulls in "Headhunters," an all-new story by super-scribe Mike W. Barr and legendary artist Gene Colan.
Behind the Scenes
[
]
Veteran comics artist Gene Colan also worked on the Predator series Predator: Hell and Hot Water.