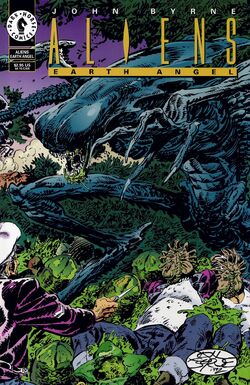 Aliens: Earth Angel is a one-shot comic book story published by Dark Horse Comics in August 1994. The story was written and illustrated by John Byrne, colored by Matt Webb, and edited by Lynn Adair, featuring a wrap-around cover by Byrne. Set in the 1950's, Earth Angel features an Alien outbreak in a suburban America town.
In the Aliens comics line, Earth Angel was published concurrently with Aliens: Stronghold (May-Sept. 1994) and the original serialized release of Aliens: Mondo Pest (June-Aug. 1994). It was followed by Aliens: Berserker (Jan.-April 1995).
Plot
Into the age of diners, black leather jackets, and Buddy Holly comes a monster worse than any that ever made popcorn fly in front of a drive-in screen -- the Alien. Legend creator John Byrne has long been a fan of the Aliens films and he jumped at the opportunity to tell his story of the first Alien invasion, the one that took place in 1950's suburban America! When you Byrne an Alien, you gotta figure it's gonna give off some heat![1]
Behind the Scenes
Canadian comics creator John Byrne is a very well-known figure in the comics field, having worked as artist and co-plotter on the eminently popular Dark Phoenix Saga during his tenure on the Uncanny X-men for Marvel comics in the 1980s.
He was also the writer on DC Comics reboot of Superman in 1986 and wrote the first few issues of Hellboy for Dark Horse Comics. Earth Angel has been his only foray into the Aliens universe.
Trivia
In the last panel of the comic, the main protagonist, Dr. Daniel's surname is revealed to be Ripley. It implies that Daniel and his family are ancestors of Alien franchise heroine, Ellen Ripley.
The title Earth Angel is most likely a reference to the real-life song "Earth Angel" by American doo-wop group, the Penguins, released in 1954. It was likely used for the comic as a way to signify the 1950s in which the story took place, though the song had little significance to the story overall.
References