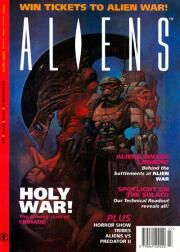 Aliens: Crusade is an incomplete multi-part comic book story published by Dark Horse Comics in its UK-released Aliens Magazine, Vol. 2 #13 - 21, from July 1993-March 1994. The story was written by Michael Cook and illustrated by Christian Gorny. It was colored by Nick Abadzis and lettered by Woodrow Phoenix.
A final chapter of Crusade was to have appeared in Aliens Magazine #22 in April 1994, but was never released due to Dark Horse's UK publishing partner, Trident Comics, going out of business.
The ambitious, richly illustrated story dealt with the fate of England during the future time period of the Aliens franchise.
In the Aliens comics line, Aliens: Crusade was published concurrently with Aliens: Colonial Marines (Jan. 1993-July 1994), Aliens: Rogue (April-July 1993), Aliens: Taste (July 1993), Aliens: Backsplash (Aug.-Sept. 1993), and Aliens: Labyrinth (Sept. 1993-Jan. 1994), Aliens: Salvation (Nov. 1993), Aliens: Cargo (Nov.-Dec. 1993), Aliens: Alien (Jan.-Feb. 1994), and Aliens: Music of the Spears (Jan.-April 1994).
It was followed by the unreleased Aliens: Matrix (May 1994) and Aliens: Stronghold (May-Sept. 1994).
Plot
[
]
As humanity works toward eradicating the Alien menace from the recently reclaimed planet Earth, a unit of elite corporate mercenaries is sent in to investigate why and how the retrograde and tribalized island of Great Britain has managed to avoid the Alien infestation all together...and find some disturbing answers.
Behind the Scenes
[
]
It is to this day unknown if the final part of the story was actually completed or not. The issue had been solicited, so fans are hopeful that the completed artwork does exist and will be included in a reprint someday.