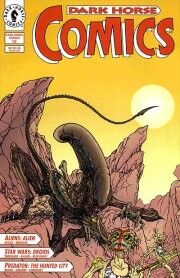 Aliens: Alien is a three-part comic book story published by Dark Horse Comics in the company's self-titled anthology series Dark Horse Comics #17-19, from January to March 1994. The story was written by John Arcudi with art by Paul Mendoza. Issue #18 featured an Aliens cover by Mendoza. It was edited by Randy Stradley and Edward Martin III.
Aliens: Alien was eventually collected alongside other Aliens comics in Aliens: Omnibus, Volume 5 in October 2008.
In the Aliens comic line, Aliens: Alien was published concurrently with Aliens: Crusade (July 1993-March 1994), Aliens: Labyrinth (Sept. 1993-Jan. 1994), and Aliens: Music of the Spears (January-April 1994). It was followed by Aliens: Stronghold (May-Sept. 1994) and the unreleased Aliens: Matrix (May 1994).
Plot
[
]
Official description of original issues:
To his tribe, Suom isn't yet a man. But he has seen the Night Reaper, whose hideous reign of fear and death strikes at night and steals away by morning. Only Suom has seen the face of the Reaper and survived, and only he can conquer this beast in part one of "Alien," featuring beautiful art by Paul Mendoza and the story of a horrifying coming of age by John Arcudi.
Dark Horse Comics #18 features part 2 of "Alien," John Arcudi's terrifying tale of a village ripped apart by the mysterious Night Reaper. Young Suom and his hunting party finally locate the beast, but it may be the last thing they ever do.
Behind the Scenes
[
]
John Arcudi is a veteran writer of Aliens and Predator comics having also worked on Predator: Big Game, Predator (Series 2), Aliens: Genocide, Aliens: Stronghold, Aliens: Reapers, and Aliens (Series 3). He was also the original writer on Dark Horse's The Mask, which was turned into the movie starring Jim Carrey.
The aliens featured in Aliens: Alien are one of the few other sentient extra-terrestrial species shown in Aliens, Predator or Aliens vs. Predator comics, alongside the Space Jockeys from the film Alien, the pilot alien from Aliens: Earth Angel, the Reapers from Aliens: Reapers, the carnivorous aliens from Aliens: Taste, and of course the Predators.