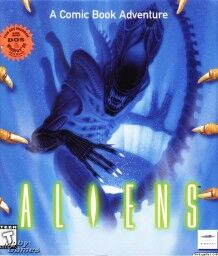 Aliens: A Comic Book Adventure is a 1995 adventure video game, developed by Cryo Interactive and published by Mindscape for the PC.
The game acts as a sequel to the comic book, Aliens: Labyrinth.
Plot
[
]
You play Lt. Col. Henricksen, an ex-colonial marine who is now the commander of a three-man terraforming team. Your objective is to travel to remote outpost B54-C in order to find the cause of a distress call your vessel received.
Gameplay
[
]
Gameplay is a point-and-click adventure with limited, inventory-based puzzles. Grid-based combat is present as well. The player is given what amounts to timed objectives throughout the game, and must uncover the truth about the mysterious outpost's history before the colony's sudden destruction.