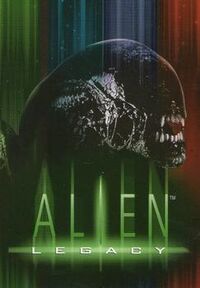 Alien Legacy: Twentieth Anniversary Edition Premium Trading Cards[1] are a 1998 90-card trading card set based on the films of the Alien franchise, published by Inkworks.
Overview
[
]
The trading cards are arranged into eight main subsets — 11 Alien cards; 15 Aliens cards; 9 Alien 3 cards; 9 Alien Resurrection cards; 9 "Technology and Environment" cards, which highlight the vehicles and locations of the films; 9 "The Art of Alien" cards, showcasing concept artwork; 18 "Alien Evolution" cards, showing the design changes made to the Alien over the franchise; and 8 "Alien Legacy" cards focussing on important characters from the franchise. The set also features a title card and a special text-only "Checklist" card.
The cards were sold in 8-card packs.
References
[
]