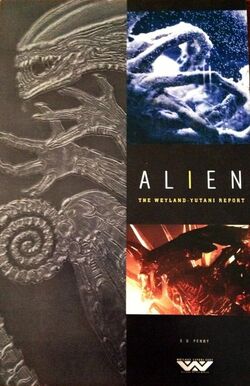 Alien: The Weyland-Yutani Report is a book that contains in-universe information gathered by Weyland-Yutani regarding the Alien. It will evidently weigh in at 160 pages and 20 inserts, coming in hardback format for $50. The book is written by S.D. Perry and it will be published by Insight Editions, though its release date is currently unknown.
Summary
[
]
For Hundreds of Years, scientists at the hugely successful Weyland-Yutani Corporation have been monitoring the behavior of an alien life-form so powerful that its potential for military application appears limitless. Although all attempts to harness the beast's abilities have ended in appalling bloodshed, the acquisition of the xenomorph remains a priority. Now, Weyland-Yutani has granted you access to their detailed files on the alien in the hope that you will be able to help capture and subjugate one of these fascinating yet deadly creatures.
Inside Alien: The Weyland-Yutani Report, you will find detailed information on the life-cycle of the xenomorph, those who had the misfortune to come into contact with it, the habitats in which the creature has been encountered, and a breakdown of the most effective weapons to use against it, from pulse rifles to flamethrowers. The last word on the alien, Alien: The Weyland-Yutani Report contains all the information you'll need to track down one of these creatures, and maybe even survive the encounter.
This in-universe book will utilize over thirty years' worth of Alien movie concept art, production design art, film stills, and other visual assets to create a deeply engrossing reading experience that will thrill fans of the franchise. Covering events and characters from Prometheus, Alien, Aliens, Alien III and Alien Resurrection, Alien: The Weyland-Yutani Report will be a uniquely immersive journey into a world that has thrilled audiences for over three decades.