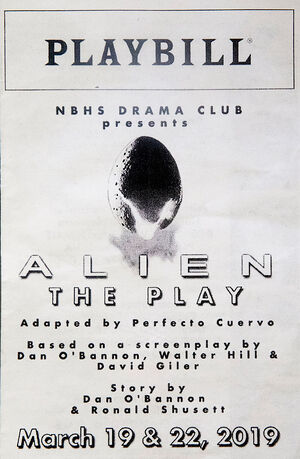 Alien: The Play is a play based off the 1979 film of the same name. It is adapted and directed by Perfecto Cuervo and premiered on March 19, 2019 at North Bergen High School. It was originally going to have one more performance on March 22, 2019, and after that students thought they were done. However, due to popular demand by Sigourney Weaver and original film director Ridley Scott, an encore performance was shown on April 26, 2019.
Development
[
]
According to an interview director Perfecto Cuervo said he was only a big fan of "Alien". After casting, since New Bergen High School is one of the least funded schools in New Jersey, most materials were junk. Kids used their own money and broken toys to help make the costumes. The reception to the costumes was amazing, however. The first performance took place on March 19, 2019.
Popularity
[
]
After the performances had ended, "Alien: The Play" had gained popularity, and became viral on the internet. Celebrities including Adam Savage and others, began praising the costume design and more. In late April, Sigourney Weaver sent thanks by video for the amazing play, and gave thanks from James Cameron, director of Aliens. Later, original film director Ridley Scott funded 5,000 dollars to the school to do an encore performance. And, of course, and encore performance took place on April 27, 2019, with all original cast returning.
Production photos
[
]