Alien: Covenant
Film information
Directed by
Ridley Scott
Produced by
David Giler
Walter Hill
Ridley Scott
Written by
Michael Green
Jack Paglen
Starring
Michael Fassbender

Music
Cinematography
Editing
Distributor
20th Century Fox
Release information
Release date(s)
May 19, 2017 (United States)
Running time
Budget
Worldwide Gross
MPAA Rating
Chronology
Preceded by
Prometheus
Followed by
[Source]
Alien: Covenant is a film that serves as a sequel to Prometheus. Ridley Scott returns as the director of the film, with Noomi Rapace and Michael Fassbender reprising their roles as Elizabeth Shaw and David respectively.
Development
Edit
On March 17, 2012, Scott said that the film leaves many questions unanswered and that these could be answered in a sequel. He said, "If we're lucky, there'll be a second part. It does leave you with some nice open questions."
[1]
When asked whether a sequel would be a direct prequel to Alien, Lindelof said: "If we're fortunate enough to do a sequel ... it will tangentialize even further away from the original Alien." In June 2012, Lindelof said that while plot elements were deliberately left unresolved so that they could be answered in a sequel, he and Scott had thoroughly discussed what should be resolved so that Prometheus could stand alone, as a sequel was not guaranteed. Scott said that a sequel would follow Shaw to her next destination, "because if it is paradise, paradise cannot be what you think it is. Paradise has a connotation of being extremely sinister and ominous." Lindelof cast doubt on his participation, and said, "if [Scott] wants me to be involved in something, that would be hard to say no to. At the same time, I do feel like [Prometheus] might benefit from a fresh voice or a fresh take or a fresh thought." Scott said that an additional film would be required to bridge the gap between the Prometheus sequel and Alien. Scott later stated it would take an additional two sequels to bridge the gap to Alien.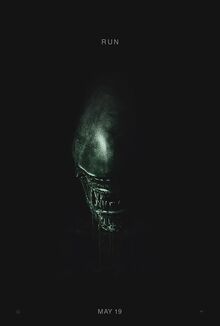 As of August 1, 2012, Fox was pursuing a sequel with Scott, Rapace, and Fassbender involved, and was talking to new writers in case Lindelof did not return. The film would be scheduled for a release no earlier than 2014. In December 2012, Lindelof had decided not to return for the sequel, citing other commitments.[2] In June 2013, Jack Paglen was in negotiations to write the sequel. In October 2013, Scott confirmed that the script was complete, but in March 2014, Michael Green was hired to rewrite Paglen's script. In August 2015, it was announced that production for the film would begin in January 2016 with Michael Fassbender and Noomi Rapace reprising their roles, and Scott directing. While at the Toronto Film Festival promote his film The Martian, Scott stated that production on the film will begin in February 2016. In September 2015, during an interview with HeyUGuys Scott revealed that the title of the Prometheus sequel will be titled Alien: Paradise Lost.[3] He went on to state that the title is a reference to the John Milton poem Paradise Lost, which deals with the Fall of Man and the temptations of Adam and Eve. However, Scott announced the title of the film to be Alien: Covenant on November 14, 2015 and the film was formally announced by 20th Century Fox two days later.
References
Edit