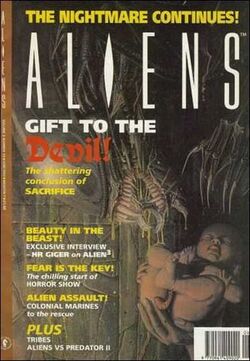 Alien³: Terminal Addiction is a comic book short story that was published by Dark Horse Comics in its UK-based Aliens magazine, Vol. 2 #12, in June 1993. The comic serves as an advertisement for the Alien³ video game on the SNES console.
In the Aliens comics line, Alien³: Terminal Addiction was preceded by Aliens: Horror Show, published concurrently with Aliens: Colonial Marines (1993-1994 series), Aliens: Rogue and Aliens: Sacrifice, and was followed by Aliens: Taste and Aliens: Crusade.
Plot
[
]
The short comic shows a boy playing the Alien³ video game on his SNES console, only to find himself sucked into the game itself. After fighting off Aliens with assault rifles and flamethrowers, he is finally subdued by a Facehugger, only to suddenly awake and realise the entire experience was a hallucination. But as he sits in front of his TV, an Alien emerges from the shadows behind him...
Reprint history
[
]
Alien³: Terminal Addiction has never been collected or reprinted.